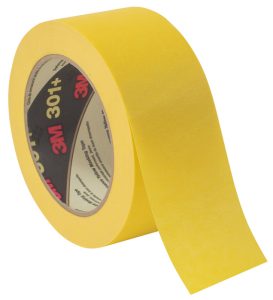 Features:
Featuring a yellow coloured, high performance masking tape with latex saturated crepe paper coated with rubber resin adhesive.
Is flexible to temperature allow it to be used in application such as air drying and oven curing of paint.
Benefits:
Great resistance toward solvent and moisture.
Conformable tape that can maintain its integrity even formed around corners. 
Can be easily hand teared for rapid application.
Rubber adhesion that adhere on contact.
Great holding power that prevent lifting and curling to reduce workload. 
Usage:
Recommended for infrared and UV curing.
Designed for indoor uses. 
PRINTED TAPES , DIE CUT TAPE , BUBBLE WRAP , WIRE TAPE,Double Sided Acrylic Tape, Antislip tape, NIYO TAPE, APPOLLO MASKING TAPE , 3M TAPE , TESA TAPE , APPOLLO CELLULOSE TAPE , STRETCH FILM, BARRICADE TAPE , CAUTION TAPE , AWAS TAPE , BARRIER TAPE , BLACK STRETCH FILM , HAZARD TAPE, MASKING TAPE ,  HOOK & LOOP TAPE/FASTENER, MALAYSIA ADHESIVE TAPES SUPPLIER, XESB, OXO BIODEGRADABLE STRETCH FILM, BLACK TAPE MALAYSIA, WIRE TAPE MALAYSIA, ADHESIVE TAPES
Call: 012 475 8415 (Office hour)
WhatsApp: PLEASE CLICK & WHATSAPP YOUR REQUIREMENT (Non business hour) (We will response to you during office hour)